TTSPY Review: A Leading Parental Control Application For Smartphones
What is TTSPY?
TTSPY is a leading parental control application for smartphones that allows parents to monitor text messages, calls, current GPS location, Snapchat, WhatsApp and much more
Why we need TTSPY?
Thus, while other monitoring applications have limited functions or support, a multifunctional TTSPY telephone tracker can provide support for all users. Actually, it is the most efficient software to track online activity and the location of someone who exists today.
Features of TTSPY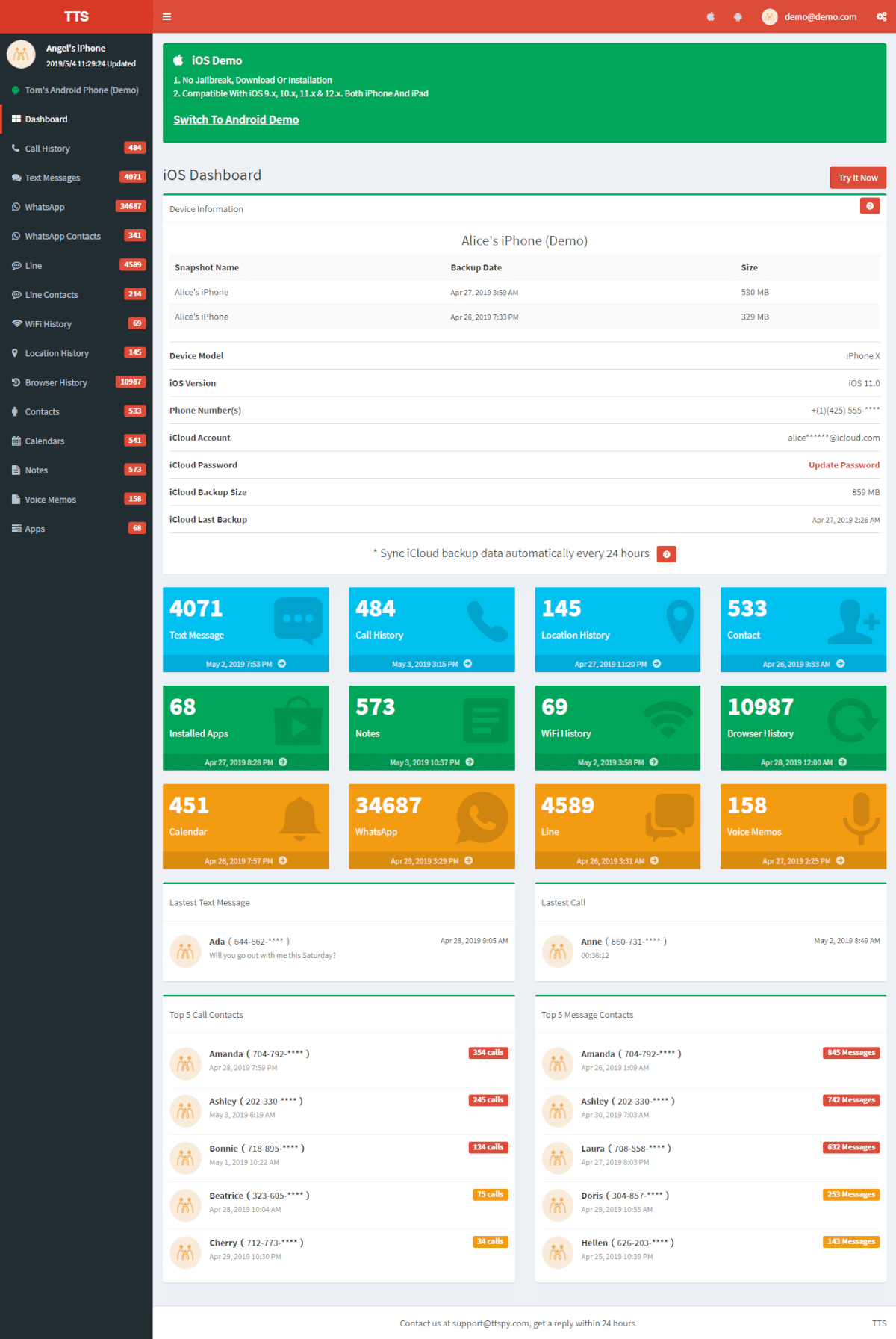 By installing TTSPY on your child's phone, you can see exactly what he's doing and who he's talking to on social media and his smartphone. You can also track the position of their phone.
There are two editions, Basic and Premium, which support a variety of mobile devices, including iPhone, iPad and Android devices. You will find below a list of the features available with the Premium Plan:
1. GPS Tracking: TTSPY not only records the GPS location of your child's phone but also sends it so you can see exactly where your child is all day long. You can even see his position in real-time on a map.
2. Read text messages: read their text messages sent and received, even if they are deleted from the phone.
3. View call history: Find out who they are calling and who is calling them. Get details such as phone numbers, contact names, date, time and duration of calls.
4. Read instant messages: Watch their instant messaging conversations like WhatsApp and Skype, as well as social networking sites like Facebook, Snapchat, and Instagram. This feature is only available on rooted Android and jailbroken Android devices.
5. Keylogger: Record all user keystrokes while using their Android phone. This feature is only available for Android OS version 4.0 and later.
6. Read emails: Read all incoming and outgoing emails. You can also read emails sent via Gmail and other email clients.
7. View photos and videos: View all photos and videos stored on your child's phone.
8. Monitor Internet activities: check the websites they visit, their search history, and the web pages they visit.
9. Access contacts and calendar: Browse your child's contacts to see who they are communicating with. Check all calendar events on their phone.
How does TTSPY work?
TTSPY collects information about the target device and sends you to your control panel (your account will be created after purchase). … TTSPY collects data from the device on which it is installed and displayed in the control panel where you can access any Internet browser.
Compatibility Information
TTSPY Compatible With All Popular Devices
For iOS Devices
Well-suited with all iOS versions
The device must be Internet-enabled
You do not need physical access to the device if you already have its iCloud authorizations (Apple ID & Password).
Physical access is required if iCloud backup isn't activated on the checked device or 2-factor/2-step verification is enabled.
Monitoring of calls
Oversight of the full contact list
Sent/Received Text Messages
WhatsApp
Browsing History
Events
Notes
Installed apps
For Android Devices
The target device must be a fully functioning Android 4+
The target Android device must be linked to the Internet
You'll need physical control of the device to install TTSPY
Instant messengers monitoring works on rooted Androids only
Monitoring of communication apps (Snapchat, Skype, Facebook messenger, Viber, Line, WhatsApp, Telegram) and optional blocking
Current GPS Location
Text Messaging (including recently deleted)
Monitoring of phone calls
Review the full contact list and block unwilling contacts
Read all emails (both incoming and outgoing)
Internet usage: Browsing History/Bookmarks/Keyword alerts/Optional blocking
Calendar Activities
Device Wipeout
& more!
Determine Your Android Version
Open your phone's menu. Tap System Settings
Scroll down towards the bottom
Select About phone
The OS version of your device is shown under Android version
Customer Service and Support
If you need any technical support, contact our customer care service. Note: To use TTSPY to its full potential,
Common Questions
Q: What is TTSPY and how does it work?
TTSPY is an excellent cell phone tracking app that makes it easy to track your kids' activities on their smartphones. Available for Android and iOS, it allows you to read all of your child's call logs and SMS (even deleted), track their GPS location and monitor their phone activity.
The way it works is simple. Simply download the TTSPY application on your child's phone and she will provide you with details of phone usage. If TTSPY is installed on an iPhone or Android phone, you can then monitor the phone's activity from the TTSPY website.
Q: Is TTSPY hidden?
The application is invisible to the monitored user. There is no indication that TTSPY is running while it is active. The application has no icons on the phone. It starts automatically each time the phone is turned on and stays hidden.
Q: Is TTSPY legal?
The TTSPY software is 100% legal as long as the phone on which you install it is your phone. If you try to use TTSPY to monitor a cell phone that you do not own or you do not have the appropriate written consent, you may be violating federal laws and state laws.
As long as you are the parent or legal guardian and the child is under the age of 18, you are legally allowed to monitor your child's activities without notifying them.
Conclusion
TTSPY has everything you need from mobile monitoring software. It offers a long list of features, including the ability to track websites visited, calls made and received, messages sent and received and keystrokes typed, and even block any app or website. It has a user-friendly web-based control panel and excellent customer service. The app interface is very easy to use and works on all major operating systems.