Best Gaming Headset for 2020 You Should Consider Purchasing
No computer gaming setup is complete unless you don't add the right peripherals to it. Just as much as a gaming mouse or a mechanical keyboard plays an important role, so does the best gaming headset. Ask me how I know and I would tell you because I have fanatically played counter strike for years. Believe me, a good gaming headset can make all the difference to your gaming experience.

When it comes to headphones, choosing the right one can be pretty overwhelming. You can't really be sure which one is the best option. You want something which offers accuracy in listening, the best sound experience, an amazing surround, and adjustable volume controls. Along with all that, you want something that is aesthetically pleasing and ergonomically satisfying and can fit on your head right.

Now when it comes to gaming, the market has a ton of options.

As an enthusiastic first-person or third-person shooter, you want a headset that helps you get deeply immersed. It's okay, we can all feel overwhelmed at some point and in fact, can't come to a conclusion when it comes to buying the right one. So I have done my research and saved you all the hassles. Here are the best gaming handsets which I recommend that you should consider before purchasing one.

Hyper X Cloud Alpha
If you are searching for a headset that you can wear for long hours and do not have to worry about head or ear strains, look no further than the amazing Hyper X Cloud Alpha. Here's a headphone that is tried and tested by multiple quality assurance specialists for extended wear before it is dispatched in the market. The headphones come with a removable microphone so you can have the ultimate ease of speaking with other players during gameplay. The Hyper X Cloud is made up of the best aluminum construction material. The aluminum makes the headphone extremely lightweight. Also, the construction of the headphone is done very precisely giving it the best durability. If you use software to regulate the sound quality so it becomes good, you won't have to do that with the Hyper X Cloud.

Steel Series Actis 7
Steel Series has come a long way and has lived up to its name. It has released multiple computer peripherals over the years which have become an astounding success. In just $149, the Steel Series Actis 7 is one classy gaming headset that offers amazing consistency in sound, remarkable performance, and a very comfortable/aesthetically pleasing design. The headset is wireless and comes with 2.4 GHz wireless connectivity. This connectivity range ensures that you don't have any lag or any sound interference issues. Additionally, the Steel Series Actis 7 includes the S1 speakers through which you receive unidirectional sound which is quite helpful in competitive gaming. Another great thing about Actis 7 is that it is very comfortable to wear and comes with an elastic bad. If you haven't made up your mind which one you're supposed to purchase, then Actis 7 is the best bet.

Astro A40 + MixAmp Pro
Are you a serious pro-gamer? In case, you are and you're very serious about sound then get yourself the Astro A40 + MixAmp Pro. Ranked as one of the best gaming headsets, this headphone offers a very durable design and sophisticated construction. The body of the headphone is lightweight so whether you wear for extended hours or just hang it around your neck, it will not cause you any strain. What really does make the headphone supremely unique is the MixAmp Pro which takes the listening experience to a whole new level. With the MixAmp Pro, you can control the game sounds and voice chats, plus at the same time, you can switch between different audio presets. Additionally, the headset comes with enough ports that you can attach to your desired devices and easily stream too. So if you want to professionally game or stream one on Twitch, Astro A40 is actually not a bad bet.

Logitech G Pro X
Logitech G Pro X is known as the tournament Titan. This versatile headset is not just comfortable to wear but offers the best sound quality as well at a fair price of $130. The headset is available in the market in its black color theme and that's all that takes to make this Titan stand apart from the rest. The headphone comes with a flexible headband which makes it very easy and comforting to wear. The earcups on the headphones contain premium quality foam covered with leatherette. As far as the sound is concerned, whether you're playing on a PC or a console, it offers a direct and accurate sound. Plus, it also features an in-built blue headphone which equally offers crisp voice chat. So whether you're playing Warframe with your friends or hosting a Twitch match, don't worry about your voice quality. Logitech G Pro X lives up to its title and is powered by the best developers, Logitech itself.

The Corsair HS50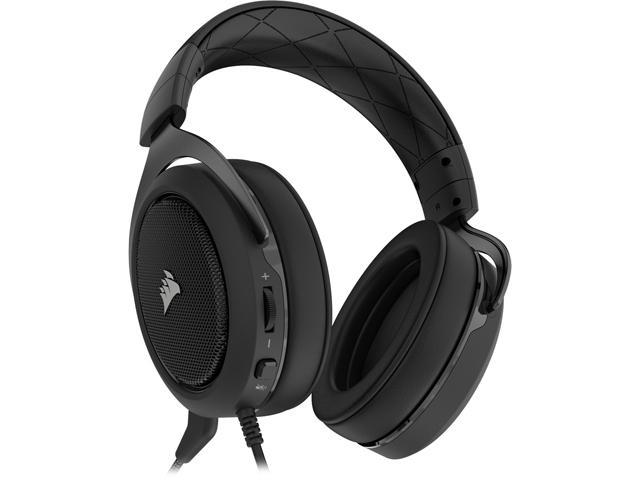 If you don't have enough budget and still want a headphone that packs a punch, the Corsair HS50 is one of the decent built headphones. Not only are they ergonomically satisfactory but they also offer a good quality sound for a $50 headphones. Of course, these won't be able to match the sound quality of those which cost around $100 or more. And neither is the design as adjustable and comfortable as the Cloud Alpha or Logitech, but at half the price of those high-end headphones, it offers more than the bargain. It is a great headphone for those who like to experience gaming in short bouts of time. Though, people have issued complains saying they do warm-up ears after an hour worth of use, but I still heck yeah! Go for it cuz it sure is worth it if you are low on budget and can't compromise sound.

So there you go, here are my five best picks for the day. These are some of the gaming headsets that I recommend you should look into before you get started on gaming this year. Do you have something much better in mind? Do let us know by saying a few words about it in the comments.